Security and CT Portal
Security and Counter Terrorism information Portal
Through this portal page we provide information covering a range of topics that relate to Security and Counter Terrorism information news and advice and connect with your resilience planning
For nearly a decade the Continuity Forum has been working alongside the National Counter Terrorism Security Office, Police, Home Office and others to bring awareness and advice to organisations on what they can do to better secure and protect not only their organisations, but our communities.
Here you will find links and information on various resources that will enable you to build your organisations resilience and create continuity.
SECURITY & CT NEWS
Security threats challenge organisations of all sizes, address these requires effective planning before an event that can ultimately be the difference between surviving and disaster.
If you would like to know more about how we can help you deliver business continuity and security, securing a more resilient future, then please do get in touch.
Project ARGUS a national initiative open to businesses and organisations and led by the National Counter Terrorism Security Office (NaCTSO) that explores ways to prevent and recover from a terrorist attack.
VSAT - Vulnerability Self Assessment Toolkit
The VSAT programme offers you a fast, free method to assess your organisations and its possible vulnerabilities, providing you with information and advice that helps build your business continuity and resilience capabilities.
An array of expertise has been brought together to develop the programme from experts from a number of connected fields.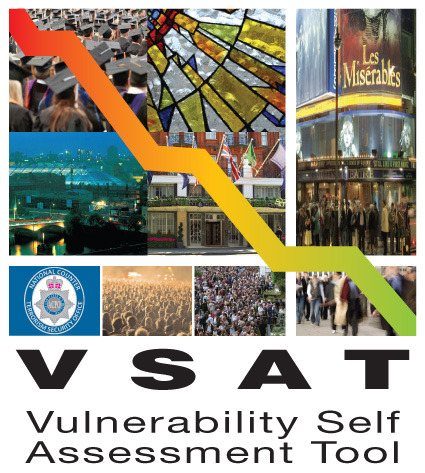 NaCTSO, The Continuity Forum and London First have brought together Thought Leaders from government and business to discuss and promote best practice crisis leadership and resilient approaches and we'll be demonstrating how the new VSAT system works.
About VSAT
The Vulnerability Self Assessment Tool (VSAT), which has been developed by NaCTSO in partnership with the Continuity Formleading businesses across the UK, will assist owners, operators or those responsible for the security of crowded places to determine their vulnerability to terrorist attack and other security concerns.
The VSAT system provides:
Sign posting to best practice

12 months Business Continuity Management tool

Increased local engagement with security experts (CTSA)

Training Opportunities
Written assessment report with recommendations covering:
Physical Security

Personnel Security

Information Security

Good practice

Risk Management
The Vulnerability Self Assessment Tool is a means for you to identify and reduce the vulnerability to your establishment and help protect our communities.
Creating safer communities needs a blend of skills, tools and partners. Consequently, the VSAT has been developed to make it far easier for businesses of
all types to measure and improve their capabilities whilst helping access skills and experience and enabling work with others in their local area to build real resilience.
VSAT is a unique tool that combines the best Business Continuity and Security practices in way that is easily accessible and applied.

The Continuity Forum Chairman, Russell Price says "The VSAT system is simple, yet very adaptable. It really can be used by organisations of all shapes and sizes. I believe it will make a huge impact on how organisations approach Business Continuity
and Security and make a significant contribution to the overall resilience of the UK."
---