E.ON UK achieves certification to BS25999
Business Continuity Forum
E.ON, the world's largest investor-owned utility, recently celebrated the achievement of BS25999-2:2007 certification across all its UK business services locations. This follows nearly two years of preparation led by business continuity manager, Jag Gogna. This decision was preceded by a review in 2007 of business continuity and crisis management of over 50 locations and around 16,000 staff.
The challenge from the outset, he explains, was to secure support and buy-in from senior strategic and operational mangers from across all aspects of the company. Cultivating the required relationships and instilling the required confidence among staff is vital to a cooperative culture.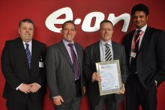 Image (l-r): Fran Wilkinson, BSI, Barrie Millett, Head of Business Resilience Office; Derek Parkin, MD of Business Services;
Jag Gogna, Business Continuity Manager
Furthermore, internal BCM controls such as policy, standards of practice, annual objectives, whilst compliant to BS25999, were appropriately designed and flexed to recognise the size, nature and complexity of an energy company. The ensuing risk-based approach to BCM enabled the efficient delivery of all aspects of the BCM lifecycle, including the delivery of targeted BCM training empowering management to self-maintain their respective business units' BCMS.
E.ON UK believes that the process has positioned it to mitigate and control the impact of business interruption – something Gogna says has been comprehensively demonstrated through the management of incidents. Commenting on a recent example, he says: "Our pragmatic approach in successfully managing the company's response to the H1N1 (swine flu) outbreak in 2009 (a) ensured effective communications of the situation to all employees, and (b) ensured that the actions contained within our pandemic plans were commensurate with the (arguably low) level of risk to public health. Furthermore, our engagement with the Energy Executives Emergency Committee (comprising of thirteen major utility providers and the Department for Energy and Climate Change (DECC)) meant that the risks facing our industry were appropriately identified and mitigated. The output from this Group has further strengthened the position of the Energy industry well for future threats (ie. a novel virus such as H5N1).
"Other threats that have affected many organisations worldwide, for example, industrial action, adverse weather conditions, volcanic ash disruption and the fuel crisis all share similar impacts. The key for us is to flex a simple, effective, worst-case scenario plan that meets all of the ingredients of BS25999. A plan that allows us to manage any number of the infinite risks that may manifest themselves, and not to create burdensome plans and procedures for each and every conceivable cause of business interruption. The drivers we use to measure the impact to operations resulting from any event are the same i.e. safety, power delivery, legal/regulatory, reputation, financial. Having therefore understood the degree of impact and resources required over time to restore critical activities (as a basis for the strategy and development of a plan), it's then about the right people coming together at the right time to make the right decisions which will maintain the continuity of our critical activities. We find that this practicable and sustainable approach appeals to management who have been given specific BC roles and responsibilities together with the right tools (we utilise BCMS2 from Continuity2) to manage business continuity in an efficient non-intrusive way.
The company also believes the process has embedded a BCM culture across the company. As a direct result of certification, E.ON UK's BCM expertise is being shared as part of an ongoing commitment to best practice across the whole E.ON Group. Remarking on the global application of the British Standard, Gogna states: "I am confident that certification to BS25999 and a receptive approach to the forthcoming ISO22301 Standard will open the door to a number of additional benefits".
"Achieving certification however is only part of the journey. As the Standard states, real value derives from continuous improvement, and our pursuit of this – whether through planned exercises, lessons-identified from scenario exercises or real events, staff training/awareness-campaigns or annual improvement targets - is what makes our BCMS a truly resilient one".
Continuity Forum Comment
It is great to see larger, more complex companies showing what is possible and E.ON are to be roundly congratulated on their holistic approach and preparation. The award recognises the efforts of team that will not only benefit the company, but also their customers and stakeholders. We hope their success will be followed by many other providers of essential services to develop their planning and achieve certification
---