Video - Business Continuity Implementation and certification to ISO 22301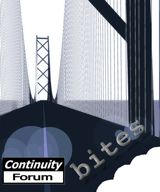 The session is part of the Continuity Forum webinar series and was first broadcast in September 2012.
Hilary Estall of Perpetual Solutions is our guest for the session and she outlines how the migration can be more easily made from other standards such as BS 25999-2 to the new ISO and what the auditor is likely to focus on when assessing your system.
This video is approximately 48 minutes long.
---
Business Continuity ISO 22301 Implementation and Certification from Continuity Forum on Vimeo.
---
If you would like us to cover other topics or have suggestions for other content we should consider including please do get in touch.