FREE ISO 22301 WEBINARS - dates now available to book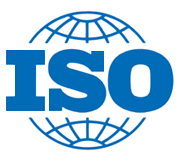 We are now accepting bookings for our public Webinars covering the new Standard for Business Continuity, ISO 22301.
These sessions are being provided free of charge. Initially we are providing four sessions to cover the worlds different time zones.
The first public session will commence at 09:30am GMT on Wednesday 30th May 2012 and be followed later that day withthe second starting at 16:30.
The next session will be held on Wednesday 6th June at 16:30
pm (GMT) and the fourth a week later on Wednesday 13th June at 09:30am (GMT).
We hope the timings of these ISO 22301 webinars make it a little easier to fit these sessions into your schedules.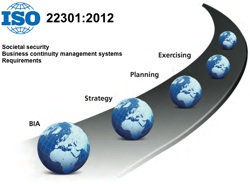 Each ISO 22301 Webinar session will cover:
The background and development of ISO 22301

What the ISO will mean for organisations

What it is and, importantly what it isn't
How it 'fits' with other standards in organisations

A review of the key points of ISO 22301

Discussion of how it differs from BS 25999-2

How organizations can manage the transition

The Time line for change...

In addition, there will be an extended Q&A session to discuss more details and to help you understand the implications for your organisation.
We have taken the decision to restrict the numbers in each webinar to allow
for more interaction and to provide more opportunity to answer your questions.
We have thought carefully about the timings and the 9:30 am sessions are great for those in the Middle East and Asia and the 16:30 slots make it easier for those in the US and the Americas to join in.
To book your place please choose one of the following Webinar sessions:
Webinar Session 1 - Wednesday 30th May 2012 - 09:30am (UK)
Webinar Session 2 - Wednesday 30th May 2012 - 16:30 (UK)
Webinar Session 3 - Wednesday 6th June 2012 - 16:30 (UK)
---
UPDATE - due to demand additional sessions added
We have added two further dates to meet the demand for our sessions please click on the links below to book.
Places will be allocated on a 'first come, first served' basis and we will have a wait list available for each session should be unlucky and miss out on your chosen slot.

Depending on the demand for each of the sessions we may add to the schedule to ensure that everyone gets a chance to participate.
In addition, we are running more specialised ISO 22301 briefings for our partners and members that are aimed at getting into the fine detials of planning and management for the Standard. If you would like to know more about how you can access these sessions please do get in touch with us
here!
If you would like to talk to us about providing webinars or any of our other services internally to your team/s, across your customer base or even market sector please do get in touch here!
---