National Occupation Standards for Business Continuity - your feedback needed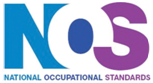 Since 2011 the Continuity Forum has been working with
Skills CFA
to develop Business Continuity skills and qualifications for use in the workplace.
We are now conducting a review of the Business Continuity Management (BCM) suite of National Occupational Standards (NOS).
National Ocupation Standards describe what individuals need to do, know, and understand in order to carry out a particular job role or function. The BCM NOS suite must suitably outline the competence and knowledge required to work within the BCM profession or manage their specific responsibilities with the planning developed within the organisation.
We are reviewing the BCM NOS to ensure that they are up-to-date, fit-for-purpose and reflect current practice.
As part of the review we would like your feedback on the draft NOS. This short survey presents each of the NOS in detail and asks your opinion as to their suitability.
The survey is expected to take approximately 20 minutes to complete, with your anonymous responses being used to shape the next stage of the project. We appreciate your input and ask that you complete this survey by Monday 30 September.
The review is being run by Skills CFA and your feedback will remain confidential and will inform the future of the Business Continuity Management NOS. If you would like to know more about this programme please do get in touch with us directly.
Please feel free to circulate this survey link to any parties who would like to participate in this consultation.
---