Dummies Guide to Business Continuity and Implementation and certification to ISO 22301 - chalk and cheese?
There are two new Business Continuity books coming out this summer that are likely to find their way on to the book shelves of many of our readers and partners. They are chalk and cheese in their content, but significant publications as they address two topics that feature highly in the questions we receive here at the Continuity Forum.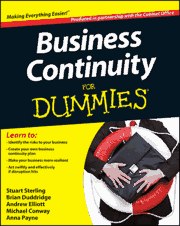 The first title is the Business Continuity for Dummies published by John Wiley & Son and is targeted to provide a basic introduction to Business Continuity Management to those new to the process.
For many years one of the most consistent questions we have had, especially from those coming to BCM for the first time, has been, "what would we recommend as an introduction?" and we can now add the Dummies Guide to the Practical Business Continuity Management.
More recently, since the launch of ISO 22301, and perhaps at the other end of the scale, the questions have been centred on getting good advice on how to implement the new ISO Standard; and with virtually perfect timing, Hilary Estall brings us her Guide to Implementing ISO 22301.
For quite some time, we have been trying to get a simple and accessible guide to Business Continuity and had our first conversations with Wileys back in 2006.
Our thinking has consistently been that there was a real need for an easy text that wasn't aimed at BCM professionals and that could introduce the basic principles of BCM in a straightforward way - and that could be used by people with little or no experience of BCM as a primer.
The Dummies Guide was, in our opinion, the perfect vehicle for this.
Our attempt to get Wileys to publish a guide failed, but five years later the Cabinet Office got involved and here it is - Dummies Guide for Business Continuity.
The format is exactly what you would expect from a Dummies Guide - lots of tips and advice all laid out according to the strict guidelines that have helped make the format so successful. It was quite a challenge for the Author Group to adapt Dummies Style and it was both challenging and enjoyable to be part of. The outcome though really works in our opinion.
The
Dummies Guide to Business Continuity
,
whilst conforming to the relaxed and jaunty style required, follows good practice very closely indeed and has been reviewed thoroughly ahead of publication to make sure the advice provided supports all the principle standards used around the world.
Anyone who has read other Dummies Guides will know that they are not intended to deliver the kind of in-depth knowledge used by the most serious of professionals, but rather help people get people familiar with a new topic or skill quickly and effectively and this the Guide does superbly.
Not only will the Dummies Guide be extremely useful to the SME sector, but it will prove invaluable to professionals to share with colleagues to give them a grounding and context for Business Continuity Management within much larger and mature organisations so essential to get proper 'buy in' .
Russell Price represented the Continuity Forum on the Author Group
Hilary has worked extensively across the sector with the BSI and more recently with her own consulting practice. There are very few people with her depth of experience and knowledge on the opportunities and pitfalls that arise while working on developing effective Business Continuity Management Systems.
This book
is very much a practical guide from an experienced practitioner, written for people and organisations who are implementing a business continuity management system (BCMS) and who may be considering certification to ISO 22301.
The development of a BCMS requires commitment, time, resourcefulness and management support.
This book will equip those new to business continuity management or to management systems in general with the skills to manage the ups and downs of the journey. Business Continuity Management Systems: Implementation and certification to ISO 22301 contains checklists, worksheets and invaluable top tips.
Hilary has recognised the need to support organisations considering, or in the process of, implementing a business continuity management system (BCMS), and has set to work to produce a hands on guide aimed at taking the reader through the most important elements of developing an effective guide whether the organisation is migrating from BS 25999 or starting from scratch.
The information is practical and comes from her many years of auditing experience. Top tips help to ensure you have covered all the angles and know what to expect from the audit process itself. Business Continuity Management Systems: Implementation and certification to ISO 22301 is an honest attempt at demystifying management systems and to help maximise the benefits of implementation.
To order your copies please click on the links above or visit or our Bookshop where we promise some great books that we think will help you and that don't have any more Lifebelts on the cover!