Safe working during the Covid-19 pandemic guidance for organizations


The British Standards Institution (BSI) the national standards body for the UK and range of advisors has produced new guidance aimed at helping organizations provide a safer working environment.
The COVID-19 pandemic has fundamentally shifted the way people live and work and as organizations balance the need to resume activities it is essential that they consider what they need to do to provide a safe working environment. Planning how to mitigate the effects of the pandemic is therefore crucial, to protect workers, provide reassurance to other interested parties and to protect the organization's reputation.
Building on and complementing formal guidance issued by governments and other trusted sources such as the World Health Organization (WHO), BSI has developed "Safe working during the COVID-19 pandemic – General guidelines for organizations" to assist organizations as they adjust the way they work, and to protect workers, and the people they come into contact through work, from the ongoing risks.
This document is not a formal standard, but a set of general guidelines, developed at pace, using a flexible, agile process.
To download the guidance please click on the image below.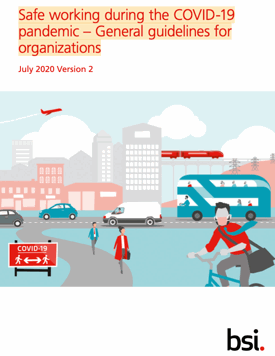 In addition to this guidance a number of other Standards available are continuing to made available free of charge to help organizations during the crisis.
Continuity and Resilience
• PD CEN/TS 17091:2018 Crisis management: Building a strategic capability
•

BS EN ISO 22301:2019

Business continuity management systems — Requirements
•

BS EN ISO 22313:2020

Business continuity management systems. Guidance on the use of ISO 22301
• ISO/TS 22318:2015 Guidelines for supply chain continuity
• ISO 22316:2017 Organizational resilience. Principles and attributes.
Risk Management
• BS ISO 31000:2018 Risk management — Guidelines
•

BS 31100:2011

Risk management - Code of practice and guidance for the implementation of BS ISO 31000
Community Resilience
• BS ISO 22319:2017 Security and resilience - Community resilience - Guidelines for planning the involvement of spontaneous volunteers
• BS ISO 22330:2018 Guidelines for people aspects of business continuity
•

BS ISO 22395:2018

Security and resilience. Community resilience. Guidelines for supporting vulnerable persons in an emergency
Emergency Management
•

BS ISO 22320:2018

Security and resilience. Emergency management. Guidelines for incident management
These standards offer information and practical advice for businesses and individuals, which help the business community navigate the challenges and potential risks associated with the current global crisis.
To view and download the standards pplease click the link below.

You may need to download Adobe Acrobat Reader DC on some Apple systems this can be found HERE!
For further advice and guidance please email us at info@continuityforum.org or call us on +44 (0) 208 993 1599.
---