Introducing BS Standard for Organizational Resilience BS 65000

Introducing the Organizational Resilience Standard
The BS 65000 standard offers guidance on how organizational resilience can be enhanced through connecting the strategic goals of the business with wider thinking on the processes and resources that deliver value enhancing capabilities.
Introducing Organizational Resilience
BS 65000 identifies organizational resilience as a dynamic concept that details the integration and co-ordination of various processes and resources that are often already in place such as those that form part of the Risk, Business Continuity and Crisis management activities. Through the standard overall performance improvement can be gained by taking care to understand processes and activities in greater depth and with a particular emphasis on the relationships they have to other activities, resources and stakeholders.
This will sound familiar to many Business Continuity professionals, but an essential difference is the strategic perspective along with breadth and depth required. These combine to help build recognition of the key activities of the organisation and helps embed of more strategic set of corporate values that can help guide and prioritise other related activities. Key to the standard is cutting through silos, structures and hierarchies with the aim of protecting and enhancing value chains.
While BS 65000 will certainly offer insight into how sudden disruptive events can be better managed, it also identifies the importance of how the organization will need to manage the disruptive change, both internally and externally, created by changing markets and other business influences.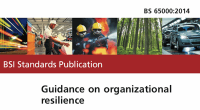 The approach taken in the development of BS 65000 has been to produce guidance that helps integrate the skills, knowledge and capabilities across existing professional disciplines and use these to more closely align onto the both strategic and operational goals more coherently.
The Organizational Resilience Standard not only acknowledges other standards, such as ISO 22301 for Business Continuity and 31000 covering Risk Management, as well as others, but argues that these detail essential activities that need to work well together to achieve good organizational resilience. The standard asks business to carefully consider its real resilience capabilities and asks encourages systems and approaches are developed to create improved situational awareness that can be used in data to day decision making and not just when the organisation is challenged by incidents
A core theme found throughout BS 65000 is the importance of information and communication and the standard places a heavy emphasis on creating systems and processes that help facilitate good decision making across the business.
Companies that have shown they have higher levels of resilience have a number of characteristics that really do make a long term difference to their performance. One of the most important is the ability to proactively 'learn and adapt'. Consequently, a high profile is given to the value of how lessons can be learned and then embedded into business practices more widely.
One of the key resources contained within BS 65000 is a series of 24 questions that challenge the board on its real capabilities, how well they understand the risks they are managing and how coherent their overall planning is. It also offers a Maturity Model for Organizational Resilience
Overall, the Standard offers organizations a structure that helps align processes throughout all its operations and with a strategic focus that will help the engagement with top management.

You can request the slides from the launch by clicking the link to the right.
---
The Continuity Forum provides briefings on on how planning for organizational resilience can help your organistion. To arrange yours please contact us

HERE!
To purchase a copy of BS 65000:2014 please use the link below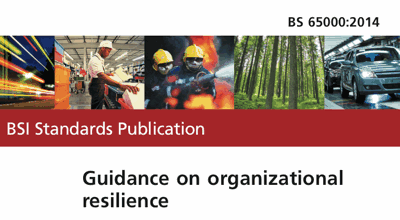 ---