ISO 22301 Business Continuity Standard published

The new international standard ISO 22301 for Business Continuity has now been published and can be purchased and
immediately downloaded
from the BSI Shop
HERE
.
This ISO standard builds on one of the most successful management standards ever created by the BSI, BS 25999 that delivered both the guidance and requirements aspects needed to create Continuity and Build resilience.
ISO 22301 is the requirements specification that sets out the details that should feature in your business continuity management programme to achieve recognised good practice. The associated guidance documents, ISO 22313, are currently in draft production and will be available later in the year or in early 2013.
For those who have already implementated or aligned with the leading national standards (such as BS 25999, the US version BCM.01 from ASIS and the BSI or SPC.01 the general framework for example) the general approach by the ISO will appear very familiar.
Most organisations will be able to effect a 'relatively' straightforward transition to ISO 22301- through a transition period - with most of the work being concentrated on the development of the BCMS process documentation.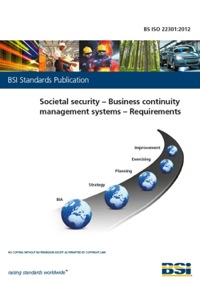 ISO 22301 is one of the first standards to conform to ISO Guide 83 that provides a consistent framework to enable better integration of separate, but connected standards - such as ISO 27001 or ISO 31000. This offers significant benefits in the implementation and management of standards and will we believe help increase the effectiveness of the broader planning across organisations and reduce costs of audit, compliance and certification.
To find out more about the transition process
click here
!
To find out more about our webinars on ISO 22301
click here
!
We have already started our ISO 22301 Briefings for Partners and if you would like to know more about these please
click here
!
Russell Price, our chairman said on the publication of ISO 22301 "...Thirteen years ago we stood in front of most of the nascient BCM sector companies, many of the regulators and various government departments proposing that standards for Business Continuity was essential and a vital pillar for its development. We also proposed at that meeting that the two other pillars for real development were regulation and legislation.
It was clear to us back then that organisations and our broader society could benefit hugely from widespread adoption of Business Continuity. At the core of this was a belief that BCM was about responsibility to customers, staff and stakeholders and that it would be good for business everywhere to face up and address many of the events that disrupted and even destroyed so many businesses.
At that time there was not just some serious scepticism on these proposals, but some even found the suggestion ludicrous!
Yet here we are, after 13 years of work and broad industry development with an international standard for Business Continuity."
---